Who is online?
In total there is
1
user online :: 0 Registered, 0 Hidden and 1 Guest
None
Most users ever online was
13
on Thu 11 Apr 2013, 20:04
The CHC goalposts have been moved many times. I would like to highlight one change which fooled me, although not our solicitor.

Two levels of 'Severe' in the DST do not necessarily lead to funding in the eyes of some NHS bureaucrats.

It goes like this: it is claimed that a person can have a simple illness / health need but their needs are still social; the nature of their needs are not complex, unpredictable or intense. It seems to me that this is used in cases like my friend who has dementia and other health needs but who sits staring into space or is asleep most of the time, a sad life with little quality but still they say he does not have a Primary Health Need.

Firstly, we have the domain levels in the DST: these include statements that are relatively easy to 'mark' (but obviously we need to go for the highest possible and understand every word that is used). Secondly, we have the 'indicators' of nature, complexity, intensity and unpredictability which are by no means 'fixed' or easy to define – and there's the rub. In our experience, NHS bureaucrats use these vague, airy-fairy concepts to argue against granting CHC funding irrespective of the levels given in the DST domains.

For us, my friend gained 2 'Severe' levels and several High's and Moderates. Simple? Oh, no, his needs are not complex etc etc

My advice is not to ignore these indicators in our submissions, be as alert about them as we are about the Domains.

All the best

Peter



peterandjohn




Posts

: 785


Join date

: 2012-03-06


Location

: By the water




Hello peter,

Yes it is these shifts that are the most difficult to plan for. The extra problem is that obviously not all PCTs employ this tactic. I am gratefull Peter for that information, I cant say I considered it.
I always thought that 2 severes would win it? Obviously not.

The four key indicators are very important as can be seen by the way specialist law firm Hugh James highlight them.

It is getting maybe to the stage where because of the complex nature of the PCTs approach to CHC funding that most challenges may best be done by specialist law firms like Hugh James, on a no win, no fee basis? Anyone like to comment on that point?

It is also getting to the point where the only way to challenge is through their own criteria and National Framework. This approach is working and again and I dont want to be sounding like the promotion man for Hugh James, but this is the way they do it.

They dont look for direct confrontations, or in your face arguments about points of law,; they are looking for victory and that victory will be more possible the less bitterness and anger is displayed.
Their whole purpose is not to go to court if at all possible. Unlike some other advocates I could but wont name advocate.
Try to leave law for the lawyers and the courtroom.
Very kind regards, la chatte

la chatte




Posts

: 430


Join date

: 2012-02-27



Couldn't agree more. Fight them on their ground, undermine it, reveal the weaknesses, build a stronger case than they can knock down. It's the way that Hugh James are going about it with us.

My experience is that Hugh James will check the facts of the case before accepting it on a no win-no fee basis - and that is to be expected, of course. So, if they take on a case there is a good chance, not guaranteed of course, of winning it. (Not that I would advocate giving in if they refuse it.)

It was at the point that I was in danger of having a breakdown (that's a story I don't feel comfortable telling even after well over a year) that, in desperation, I approached Hugh James and was so relieved when they said they would take it. You cannot imagine the sense of relief.

BTW, Hugh James will stop short of going to court on a no win-no fee basis - at that point Council (or is it Counsel?) have to be paid for etc etc. In any case, I fear the goalposts would be moved yet again if lots of people go along the 'what's legal' road.


peterandjohn




Posts

: 785


Join date

: 2012-03-06


Location

: By the water



Couldn't agree more, PJ (short for P&J!). The goalposts of care are moved all the time - by those who are in a position to move them. That's the difference between them and us. We can't move them - they can. It's not only the goalposts via the NF that are moved - each and every goalpost in the sphere of care gets moved when it suits them. Never when it suits us.

I've never had any dealings with HJ so have only read of their achievements in the press, heard of them on TV and radio, and read them on various websites. I've no reason to question any one of the reports I've read about HJ, because they all stand up to scrutiny.

When you talk about going along the 'what's legal' route - that's something that HJ has not done, as far as I can see. They have acknowledged that there's nothing unlawful about the CHC/NF procedures - because it is all lawful. Lots of problems in it all still, but it is lawful. No doubt about that. HJ have acknowledged each and every piece of primary legislation, secondary legislation, guidance in place. Then they've worked through all documentation in order to demolish things that should not need to be demolished - if only they'd been presented properly in the first place - so as to provide evidence of that thing called a PHN, primary health need. I'm not saying that I agree with the need to demonstrate a PHN, when it comes to people in desperate need of care, but Hugh James achieve success by working with the procedures in place.

As for coming close to a breakdown, if only there were statistics to show about how many people have been worn down and almost ground to a pulp - not only by the CHC process, but by the care system in general.

Thanks, PJ, for your reminder about goalposts.


i quite agree that it is within the process and domains that need to be looked at with scales and test put forward ...evidence based argument the coughlan case is a completely different route and a bigger nut to crack i think

e.g. of moving goal posts when chc has been granted framework says " specialist or bespoke equipment must be provided by the nhs " no they say by the care care home if not no equipment ....

dad won in the end but it wasn't easy despite those specific words totally misconstrued and denied hoping their responsibility will go away

sneaky

timthumb




Posts

: 1


Join date

: 2012-03-14



Also the IRP's now can and do re write the DST Domain ' scores '. Happened to us last year when the IRP panel insisted the the PCT had ' overstated ' my late Mum's needs !!



Bodecia2007




Posts

: 45


Join date

: 2012-03-14



Bodecia2007 wrote:Also the IRP's now can and do re write the DST Domain ' scores '. Happened to us last year when the IRP panel insisted the the PCT had ' overstated ' my late Mum's needs !!


Yep, recently happened to us - IRP downgraded a few domains. Never met my friend, didn't have the significant papers about him. Still upheld our PCT.

peterandjohn




Posts

: 785


Join date

: 2012-03-06


Location

: By the water



Hi, All

You need to ask for/demand from the P.C.T copies of the actual paper work that they based their decision on, i.e. the medical records of your relative. They would have hand picked the records they use, most likely the ones that show a good day
In the 'portrayals of needs' pack you will have several documents, that go through the domains, with their comments written or typed in. To the right of their comments you will see reference numbers, and these reference numbers refer to the records/care home notes etc etc etc. You should already have received copies of these documents via your access to records request, so you can double check and cross-refer.
So, write and request copies of the
reference-numbered documents
, stating that you would have given your permission for them to access those documents so that they could assess your relative. Remind them that you also have copies of all records, but in the interests of transparency and continuity you need copies of their reference-numnbered documents, to cross reference with the copies you already hold. (Hope that makes sense to you.)
Yes, they will come out with the old 'third party' argument, but you need to deflect that ploy. You can
use Section 35 of the Data Protection Act
http://www.legislation.gov.uk/ukpga/1998/29/section/35
to demand copies of the reference-numbered documents that they used in their assessment
- you want full copies of everything submitted by all persons who had in-put to your relatives assessment
. They cannot refuse - because the documents/assessments submitted by professionals should all be made available to you.
Below are some examples of the documents that you would have received in the portrayal of needs pack. Where i have circled the reference numbers these are the Documents that you want copies of, so that you can provide your evidence against theirs. Remember they are by their own guidelines supposed to give you a full written explanation of their rationale, how the patient did qualify or did not qualify for N.H.S Full Funding,
Remember to demand copies of all who had input to the assessment, i.e. psychiatrist, GP, Care Home staff, assigned nurse, ocupational therapist, any and all who had in-put. Then use the evidence that you have to demolish what they have portrayed.
T/I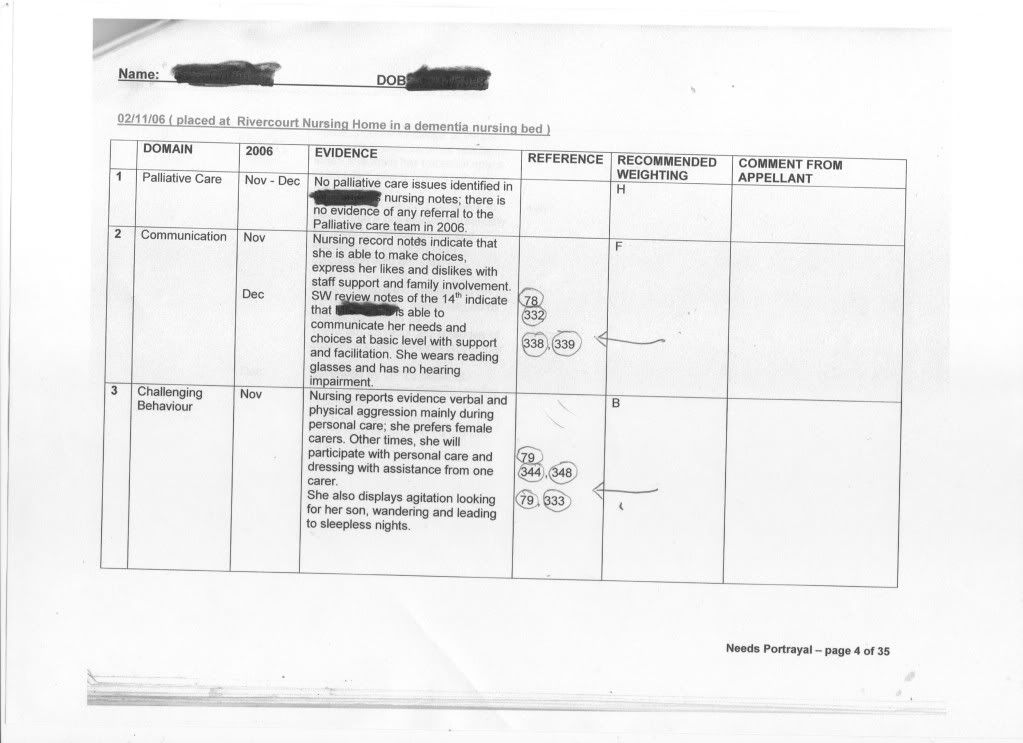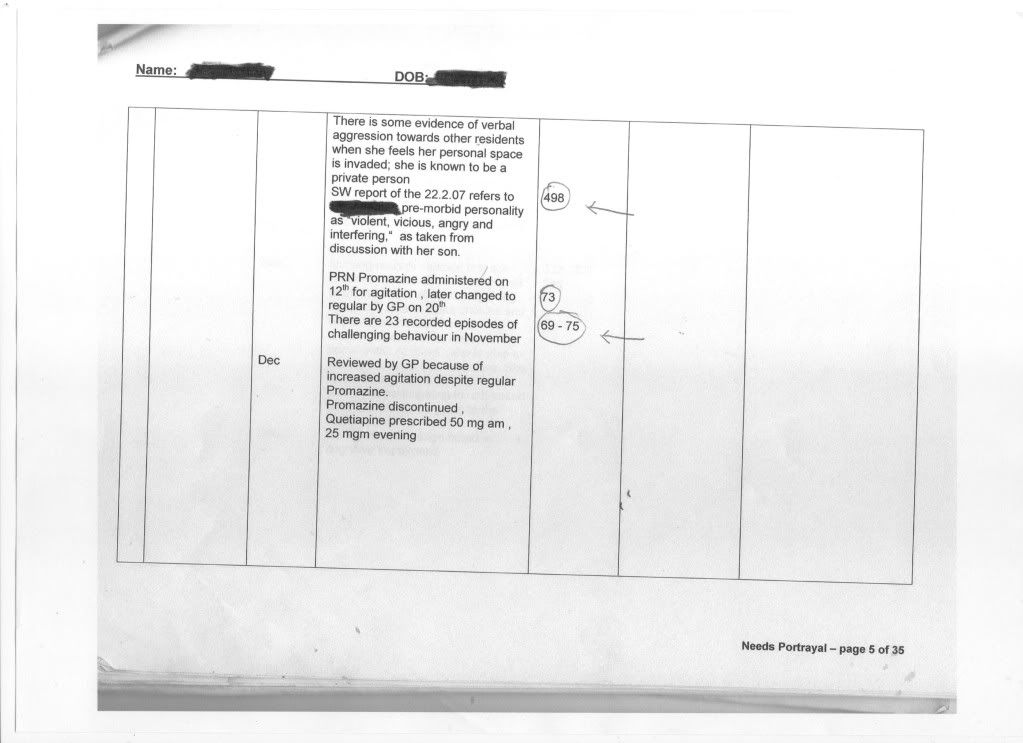 Last edited by Kermit on Thu 15 Mar 2012, 13:17; edited 2 times in total (Reason for editing : duplicate form)

The Informer




Posts

: 1514


Join date

: 2012-02-24


Age

: 65


Location

: Hertfordshire




Similar topics
---
Permissions in this forum:
You
cannot
reply to topics in this forum